869 reviews on
Sheer quality It's good to know that on the all too rare occasions now that we get to the island there is a restaurant we can book and be confident of the service and quality without having to look at reviews or restaurant sites. The whole team at Burrs never fail to produce the best service and friendly atmosphere. The liver I had was excellent(not as easy as a lot of people think) and a big pat on the back for Jodie the dessert maestro !!
MP Fenerick
29 September 2023
Fantasy food, wonderful atmosphere, staff lovely, Highly recommend you won't be disappointed your be going back for def The food is cooked fresh, every mouthful is bursting with flavours, the preparation is fantastic, the staff are lovely and helpful. This is the best restaurant. We highly recommended you going you won't be disappointed at all, you be going again and again.
Mervyn G
28 September 2023
BH fine dining treat First time at Burrs this recent August BH and if I visit IOW again it won't be my last. As a solo diner and a late booking Matt managed to book me in early Sat evening and my seat was near the kitchen and bar. This was good for me as the pleasant, efficient waiting staff, when they could, kept me company. As for the food a feast of delights, a perfect way to celebrate my earlier, first sighting in the wild of our lovely native Red Squirrels. The olives balsamic and artisan bread for aperitif set the ball rolling. The unusual smoked Spicy Fishcakes for starter hit the spot. The Lambs Liver for main was just what doctor ordered - well cooked and not meagre portions. Accompaniments and onions cooked just right. The dessert a sweet pretty delight - homemade Cheesecake Meringue with all the sticky good bits - naughty but nice. Tasty expresso to finish with decent glasses of wine throughout. All in all 11 out of 10.
Samantha B
23 September 2023
Awesome Food, excellent service Wow we are so lucky to have this little gem of a restaurant on the IOW. Matt Burr the owner is the chef and his food is sublime. All fresh ingredients tasty, filling and presented in an eye catching way. Excellent service and the atmosphere was wonderful. The prices are so reasonable to
susan d
21 September 2023
First class! Had a really lovely meal last night. Food and presentation was absolutely brilliant and VERY tasty. Staff very friendly and attentive. Would definitely recommend this restaurant. We shall be back.
Cinders24
15 September 2023
Fantastic meal Thanks to everyone at Burrs for making our last evening meal of the holiday the most special one of the week. Beautiful food, very reasonably priced with a great selection of gluten free choices (they recommend letting them know in advance to increase the GF choice further). We'll be back 😁
Brilliant meal at Burrs The food was delicious as always. 100% recommend eating at Burrs and it will definitely not be the last time I eat at Burrs. For my starter I tried the deep fried Brie, which was absolutely perfect and melts in your mouth. For my Main I chose the Beef Ragu. The meat was perfectly cooked and the gnocci complemented it perfectly. Lastly, I chose the lemon meringue cheesecake, and again this did not disappoint. The desserts at Burrs are incredible, and In my opinion the atmosphere, food and service all make Burrs the absolute best restaurant to visit on the Isle of Wight. 10/10
Debbie B
9 September 2023
Great food Been coming to burrs for years, lovey cosy restaurant, Great food, Great service, Friendly staff and the food is Delicious, Matt and his team never disappoint, And presentation is spot on x
Outstanding An amazing dining experience from start to finish is completely faultless and Matt is a true professional who prides himself on giving every diner a night to remember, to give them high end cuisine backed by team who aspire to the same goals at such an incredibly reasonable price in such lovely surroundings and atmosphere , which in my opinion makes Burrs the best restaurant on the island
Simply Fantastic Went for my wife's birthday and as you can see by previous reviews the whole dining experience from start to finish is completely faultless and Matt is a true professional who prides himself on giving every diner a night to remember, to give them high end cuisine backed by team who aspire to the same goals at such an incredibly reasonable price in such lovely surroundings and atmosphere , which in my opinion makes Burrs the best restaurant on the island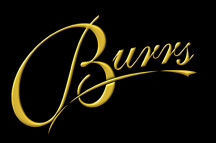 Sophisticated Fine Dining In Newport
To book a table please call